Have a question?
We'd be happy to help!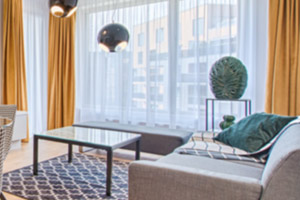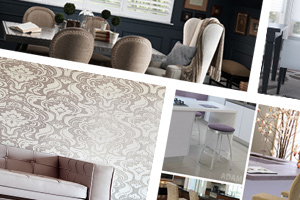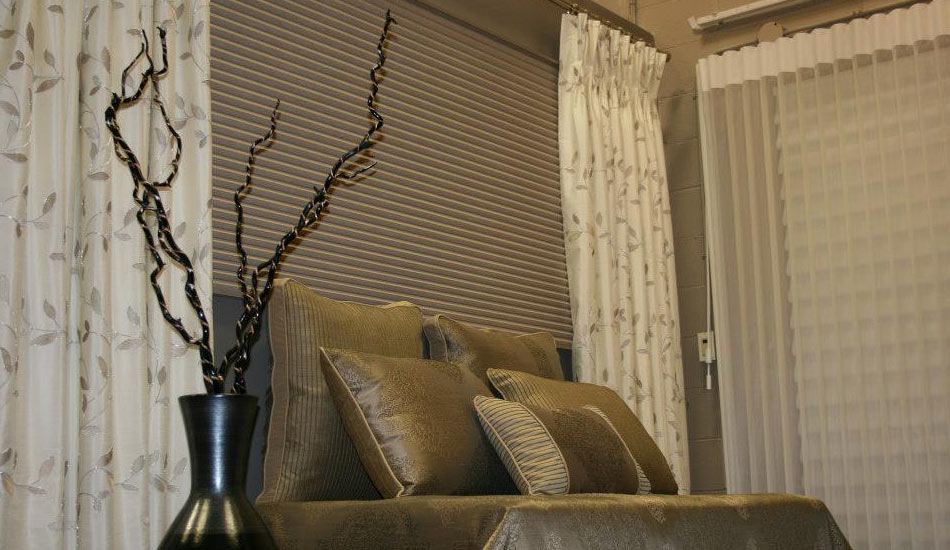 May 13th, 2014 | Posted by Blind Advantage
Your Guide to Layering Custom Drapery
Gone are the days when a single panel of fabric draping each side of a window was enough decoration for a home. Today, more and more homeowners are putting more thought into their window coverings, and some are choosing to layer their window treatments for a dramatic and stylish effect.
This trend has been very popular for many years and is especially popular right now. The layering trend with drapery provides the perfect opportunity to easily adjust the amount of light a room receives during the day, while still controlling for privacy at night. And-perhaps most importantly of all; it reduces energy costs by adding an additional tier of protection from the elements. With layered drapery you can keep the cold and heat out, while maintaining the perfect temperature indoors. If you've considered switching to layers, here are some of the best ways to do it.
Double up with Colour
The most basic way to layer drapes is by using two sets of fabric on the same rod. By using different opacities, colours or patterns, you can instantly create an eye catching design that works great in the living room as well as in the bedroom. In fact, there probably isn't a room in the house that wouldn't benefit from this look. While the use of two panels per side on a single rod doesn't do as much to alter energy costs as the other two suggestions for layering does – it definitely looks impressive.
Double the Function
If you want more than just stylish drapery for your windows consider using two sets of drapery. By layering a heavier fabrics which will either be opaque or semi-opaque on the outside rod and a lightweight semi-opaque or sheer fabric on the inside; you will have optimal coverage, privacy and style options to suite all needs. Or reverse that idea and put the sheers or semi-opaque fabric in the front and the room darkening fabric behind.
In summer, leave the heavy curtain pushed open and the sheer one closed. This lets in light but will still offer some privacy. In winter, the heavy curtain not only keeps out the cold, but it will also keep the heat inside your home – helping to save you money on your heating bill! … BONUS =)
The layering trend extends beyond drapery alone. While fabric looks great draped dramatically around the sides of a window, blinds and shades sometime offer a more practical option for windows that see a lot of use. It's not only possibly but also highly recommended to layer blinds and drapery. Such as a semi-opaque honeycomb shade to cover the window paired with opaque custom drapery panels that sit nicely on the side during the day and pulled across at night for complete room darkening.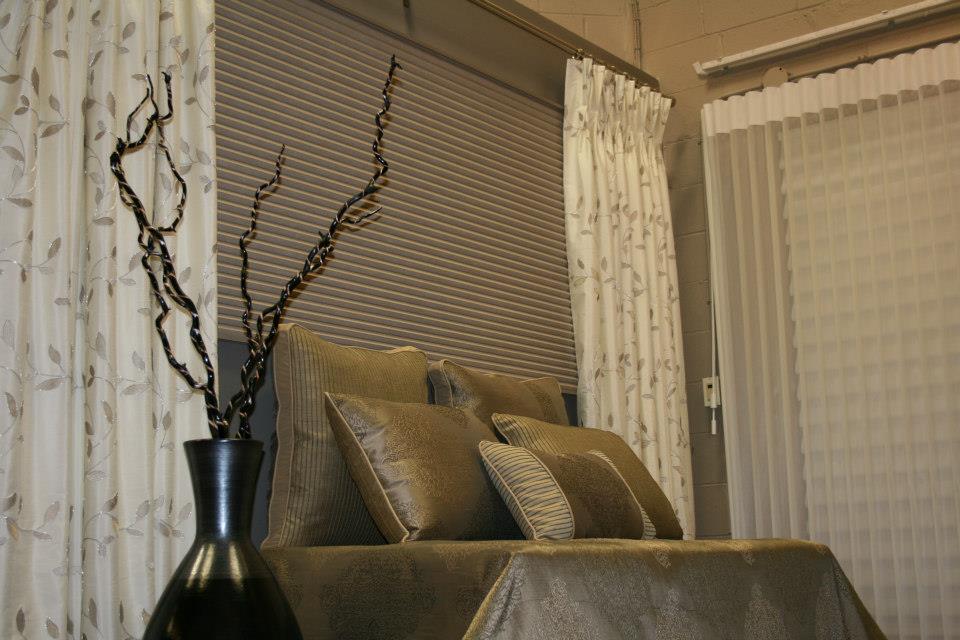 Hunter Douglas Duette Architella Honeycomb with Custom Drapery Side Panels
Have your blinds or shades installed in a traditional way, covering the front portion of the windows, and then hang the drapes on either side. Using sheer or semi-opaque drapery fabric is particularly useful, as in the summer you can let in light through the open or lifted shades and still enjoy a modicum of privacy by closing the drapes. Custom drapery also provides a second level of protection against cold weather in winter, stopping the chills that come into through the windows.
Let your imagination guide you when it comes to decorating your windows. Layering helps lower energy costs by keeping out the cold and holding in the heat, while also provide light and privacy for homeowners. Stylish and practical, the current layering trend is sure to make your home feel more  inviting, beautiful and fun.
Visit Our Drapery Page to view some of our work and Check out our Pinterest as well!
If you're interested in discussing your window covering needs contact us today.